I am Not a Cat. Three Ways Tech Has Changed Lawsuits
Written By: Josh Lowell ~ 2/22/2021
It is not an understatement to say that COVID changed everything for the family courts. Even before the pandemic, however, technology was becoming omnipresent in the judicial system. With COVID quarantines in place, the courts adapted requiring litigants, attorneys, and court staff to adjust to new systems – like Zoom. Sometimes there are glitches (e.g., unintentionally having a cat filter on during a remote, video court hearing), but the quick pace of positive change has been astounding.
The olden days of handwritten and delivered memos to the court are likely over, and good riddance! Mother earth will thank the legal system for removing the wasteful paper and gas guzzling requirements for good. Without technology the court systems would crash, and nothing would get done. Understanding how the new tech affects your ability to bring a divorce or other family law claim in court is paramount to success. Here are just a few ways technology has invaded the family law systems.
Email, Email, Email…Letters in the mail and phone calls are so 1997. Email is essentially a necessity to handle a divorce case in Washington. Communication with your attorney by email is quicker, more efficient, and usually more cost effective. Phone calls are still required for more complicated conversations, but what might have taken 10 to 15 minutes by phone can sometimes be dealt with in a single exchange of emails over a few minutes. Practice tip – check your emails! The more often your attorney must email you asking the same questions, the more you will pay your attorney for the same amount of work.


Zoom Conferences and E-Signatures - In person meetings are still possible even in the age of COVID, and sometimes it is nice to have at least one in person meeting at the outset of a case because it is still easier to make a personal connect when hiring an attorney. After that first meeting, however, meeting with your attorney can often be done remotely without the need to travel saving time for both parties involved. Make sure your Zoom is up to date and tell your attorney in advance if your Internet is not up to par. While perhaps not yet commonplace, e-signing documents is also the wave of the future in many circumstances.

Zoom conferences are also now being used for court hearings and trial as well. Making sure you are available by Zoom or phone call for a court hearing is often required. Understanding Zoom etiquette is especially important for courtroom settings.


Online Court Filing - Even just a few years ago, most court filings would need to be made in person at the courthouse. King County started e-filing, which changed the game. Now, instead of having to drive or pay a messenger to drive to the court to file a document, in most cases, it can be scanned and filed through the Internet. Even for finalizing a divorce, which almost always required an in-person court hearing, you are now mostly able to finalize your case without ever stepping foot into the courthouse.
Technology Can Get Overwhelming
New electronic and remote systems are amazing, but not understanding how they work can be a major pain. Attorneys and the courts have worked in sync over the last few years to find a great balancing point where convenience is finally integrated into the court systems. If you need help with your divorce, car accident, or any other legal matter, contact the experienced litigators at the law offices of Magnuson Lowell PS. Our team understands technology and will use it to save you time, money, and frustration. Call today for a free case evaluation.
Share this post!
---
How Are Restricted Stock Units (RSUs) Split in a Divorce?
Written By: Josh Lowell ~ 2/15/2021
Some assets are easily distributed as part of a divorce. A checking account - for example - can simply be split down the middle. Restricted Stock Units ("RSUs") are typically benefits provided by an employer to encourage future employment or praise past performance. These RSUs are much more complicated than the average bank account but – just like your standard savings account - need to be accounted for while distributing property in a Washington divorce.
Past Performance or Future Performance - the First Question!
Most assets acquired during a marriage until separation are considered community assets. The first question to consider for RSUs is whether the award was made to encourage future performance or praise past performance. Most often, a past performance award is seen at the outset of employment. Perhaps your employer tempted you to switch jobs with a package of benefits including an award of stock units. Oppositely, future performance RSUs tend to be earned over time requiring that you stick with the current company to continue receiving the awards.
Community Property or Separate Property - the Second Question!
Past performance RSUs will be considered community property if the performance being praised was completed during the marriage. This is typically a straight-forward analysis. You can think of these awards as delayed compensation for great performance during a certain period. Most often, when the employer made the award, the main question is were you married at the time (or immediately beforehand)?
Community property units for future performance are pro-rated based upon the amount of time the RSUs were vesting during the marriage. This analysis is a bit more complicated, and expert forensic analysists are often utilized to perform a thorough review. Fortunately, the Supreme Court gave guidance in 1995 in the case In re Marriage of Short. The Court held that a "time rule" should apply to dividing future performance RSUs.
The Time Rule for Awarding Future Unvested Stock Options
Once you know there are unvested, future performance stock options to distribute, you must then apply the Short time rule to determine the community portion of RSUs. Here's an example. Jamie works for Microsoft and was awarded 100 stock units on January 1, 2020. Jamie and James separated on January 1, 2021 and are in the midst of a divorce. Jamie's stock award is set to vest on January 1, 2022. The couple was married for 50% of the vesting time. Therefore, 50 RSUs are community property and 50 RSUs are Jamie's separate property.
Once you figure out the community share of the stock units, that amount is then often divided further based on agreement or court order. If the court awards each spouse 50% of the community property then James would get 25 shares and Jamie would get 75 shares (50 of which were her separate property). These shares might be split in the future by Qualified Domestic Relations Order (QDRO). Alternatively, the RSUs might be given a monetary price based on the current market value. Either way, under a perfect analysis, tax offsets may also be taken.
In the end, distribution of restricted stock units is a complicated endeavor. The example above was a simple analysis of a single stock award. Often, employees might have dozens of small stock awards spanning several years that need to be interpreted. Experts are used in cases that approach trial, but experienced family law attorneys will often be able to provide a detailed breakdown of community property. The litigators at the law office of Magnuson Lowell PS understand the law and how to apply it. Call today for a free case evaluation.
Share this post!
Divorce Negotiations - What Not to Do!
Written By: Josh Lowell ~ 2/8/2021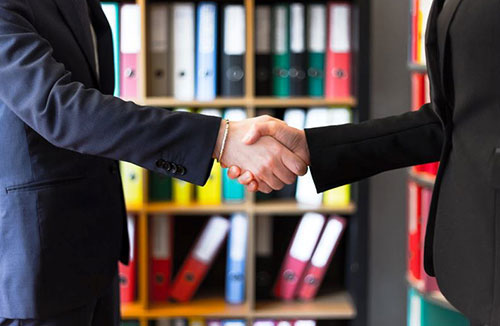 If you are involved in a divorce, you likely understand the stress and anxiety your family is under. Financially speaking, you and your spouse need to come to terms on how to split up all your assets and debts. Money aside, if you have children, setting up appropriate custody and child support schedules can be heart-wrenching. Negotiations – whether informal or as part of a mediation – are an inevitable. There are certain actions you should always try to avoid during these negotiations to achieve the best results for you and your family.
1) Avoid Negotiating Item by Item
The plates, the piano, and the puppy are all important pieces of your life. Getting lost in the weeds during your negotiation is one way to waste your time and money. While negotiating your divorce, the best strategy is to deal with all the financial assets and debts first. When it comes to personal property, however, informal arrangements tend to work best unless there are certain major items of financial or sentimental value needing disbursement.
2) Don't Focus on a Single Asset or Account
In the end, it does not matter whether you get one-half of each of the accounts available. What matters is that you get your fair share of the assets and debts (in most circumstances) regardless of the source. Instead of pushing to ensure you get your share of that specific retirement account your spouse has, you may be able to save significant time and money by taking assets in greater proportion from other accounts. A good spreadsheet is your friend!
3) Do Not Trade Your Children for Money
The law specifically disallows parents using their children as leverage, and judges are smart enough to smell these types of agreements. Your children are important, and money is separately important. Treat them like oil and water and keep them separate.
4) Don't Expect Quick Resolution
Mediations are scheduled in half-day or full-day settings meaning that regardless of the case, you will be spending a lot of time negotiating to resolve your divorce. The first few hours are always the slowest. Often, the other party will start much lower than expected and just needs some time for the mediator to do their job. Prepare for that inevitability but know that it works out most of the time.
5) Do Not Negotiate Without an Attorney
It can be tempting to save a few bucks by negotiating directly with your spouse or directly with your spouse's attorney. Family law counsel have the experience to know what kind of deals are in their client's best interests. The imbalance of power often leads to lopsided results. At the law offices of Magnuson Lowell PS, our team of qualified litigators are here to help you understand your rights and responsibilities. Call today for a free case evaluation!
Share this post!