Stop Rubbernecking! Fellow Drivers Will Thank You.
Written By: Josh Lowell ~ 6/17/2019
Have you ever been driving down the freeway when you come across a huge motor vehicle collision or maybe just a stunning view? Perhaps the four lanes of traffic have been reduced down to two and the lights and sirens of local police and aid are unmistakable. Guess what? Your decision to focus heavily on your surroundings instead of your driving leads to both an increase in traffic and a higher rate of secondary motor vehicle collisions!
In 2014, the Journal of Transportation Technologies published The Impact of Rubbernecking on Urban Freeway Traffic. Unsurprisingly, the conclusions were not favorable to those drivers who enjoy wallowing in other peoples' misery or inconvenience. While intelligent transportation systems and other methods can help reduce collisions and congestion, rubbernecking is something only we – the drivers – can stop.
Rubbernecking is the action of staring curiously at auto accidents, construction, or other events while driving. The study confirmed that rubbernecking is responsible for at least 35% of all vehicle crashes. In other words, according to the National Safety Council, rubbernecking causes more vehicle crashes that phone calls and text messages combined!
Think about it this way, studies have shown that even quick glances at your phone, billboards, or auto collisions on the side of the road take roughly five seconds. At freeway speeds, you are travelling approximately 88 feet per second. While you had your eyes of the road, your vehicle continued for 440 feet – the length of 1 ½ football fields! Next time you're driving down the road and you see a fancy car driving the other direction or an ambulance pulled off the side of the road, do yourself and everyone else a favor – ignore it.
If every driver focused on the road instead of rubbernecking their surroundings, the rate of auto collisions would plummet. This is why rubbernecking is so frustrating for experts. It is an entirely preventable behavior. Anytime we are even momentarily distracted by our conscious decisions to stare at something outside the car, it inevitably brings traffic speeds down and may even end in a collision.
The good news is that some agencies have been trying their best to prevent rubbernecking. Screens or barriers surrounding roadways may be able to prevent rubbernecking by reducing the visual incentive to stop and stare. If a collision does occur, just know that we are here to help. The physical, mental, and financial toll of an auto collision can be devastating. If you or a loved one were in a motor vehicle collision, feel free to contact Magnuson Lowell, PS for a free consultation.
Share this post!
---
Myths about MIST (Minor Impact Soft Tissue) Claims
Written By: Josh Lowell ~ 6/10/2019
If you've ever been injured after an auto crash, you know just how big a literal and figurative pain it can be. Between car repairs and insurance adjusters, the last thing you want to deal with is the incessant pain and limitation in your back and neck. And, unfortunately for you, the at-fault driver's insurance company is dead-set on taking whatever course of action is best suited to limit your recovery. Sometime, the key to understanding their argument is in their language.
MIST. An acronym created by insurance companies to undercut reasonable claims made by innocent and injured parties. It stands for Minor Impact Soft Tissue, and it creates an inference that – because you were involved in a low speed or low property damage collision – your symptoms are likely overblown soft tissue pain that should be resolved in four to six weeks. There's no real science behind this argument. In fact, on the contrary, the medical literature proves the opposite.
For example, a 1998 study published in the Archives of Physical Medicine and Rehabilitation found that there is a causal relationship between rear-end collisions and clinical signs and symptoms in collisions as low as 2.49 MPH. Further, a 2005 study published in the Medical Science Monitor found that drivers who are unaware of an impending crash are significantly more likely to have persistent symptoms even if the vehicle didn't sustain appreciable damage. Finally, a 2005 study in the journal of Birth Defects Research found that sprains and strains are permanent injuries. The internal wound repair leaves scar tissue and the affected joints will be left permanently unstable. There is no current treatment available to restore an injured tendon or ligament to its normal condition.
Even knowing this information, the insurance adjuster will attempt to low ball your claim. Here is the typical conversation we will have with an insurance adjuster:
Adjuster: You know, there's almost no damage to your client's vehicle as a result of the impact. It seems highly unlikely that your client suffered any injury as a result of the accident.
Attorney: You know, you're not a doctor, and you clearly don't understand the medicine involved or the way forces of impact affected the structural integrity of the human body. Here's a bunch of studies to show that you're lying.
Adjuster: Ummmmmm…. Those studies are worth considering. We will continue to review your claim. Thank you for your time.
Much of the time, auto insurance adjusters are working on a script of sorts. As long as they are in control of the conversation, you are playing to their strengths. By flipping the power dynamics on its head, the insurance adjuster is left in an uncomfortable position where they don't have the perfect answer.
When it comes to personal injury claims after an auto accident, knowledge is half the battle. Knowing the medicine can help your claim tremendously. Knowing that the insurance adjuster MIST argument is a bunch of irrelevant insurance jargon will allow you to stand confidently in front of the insurance adjuster and ensure that you don't get taken advantage of and – hopefully – your claim gets taken more seriously.
If you've been in a motor vehicle accident and have questions about the best way to proceed with negotiations, give us a call for a free telephone consultation. Our experienced attorneys are dedicated to working with you to get the compensation you deserve. Moreover, we are well-versed in dealing with insurance shenanigans so that your claim doesn't get disregarded from the outset.
Share this post!
Car Seats, Booster Seats, and Seat Belts...Washington`s Changing Stance on Driving with Kids
Written By: Josh Lowell ~ 6/3/2019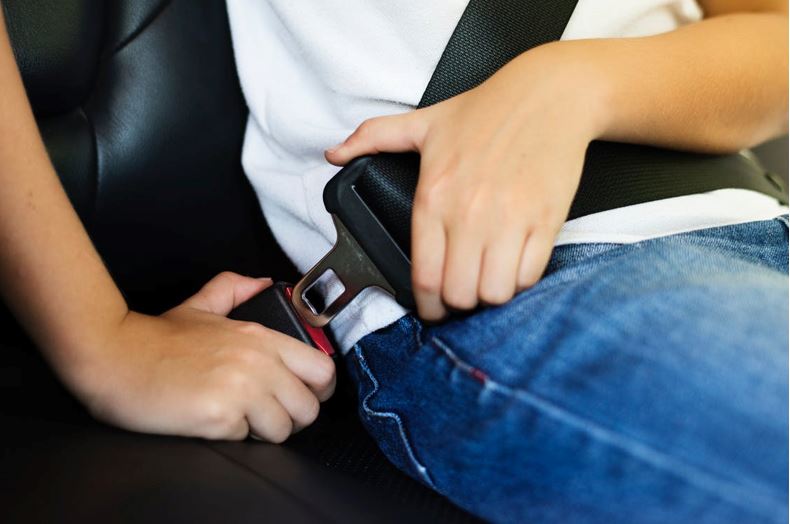 The last few decades have brought forth incredible advancements in the area of vehicle safety for children. Before the new millennium, it wasn't uncommon for kids (or pretty much anyone) to drive unbelted. Over the years, Washington has slowly added new laws to help protect kids from the inherent dangers of moving vehicles. From Washington's "Click it or Ticket" law (RCW 46.61.688) to Washington's child passenger restraint law (RCW 46.61.687), there is a lot to know to stay legal and safe.
When it comes to children, even recently the standards of changed. The American Academy of Pediatrics has updated their recommendations. Now, instead of the previous guideline – in a rear-facing seat until two years old – the AAP has recommended that children stay rear facing until they meet the height or weight requirements described in the car seat manual. This means that children over two will likely stay rear facing much longer than before.
This change is back by evolving science. Dr. Benjamin Hoffman, lead author on a 2017 study backed by the AAP, states that "Car seats are awesome at protecting children in a crash, and they are the reason death and injuries to children in motor vehicle crashes have decreased. But that also means we just don't have enough set of data to determine with certainty at which age it is safety to turn children to be forward facing. If you have a choice, keeping your child rear facing."
Here are the full recommendations from the AAP:
Infants and toddlers should ride in a rear-facing car safety seat as long as possible, until they reach the highest weight or height allowed by their seat. Most convertible seats have limits that will allow children to ride rear facing for 2 years or more.
Once they are facing forward, children should use a forward-facing car safety seat with a harness for as long as possible, until they reach the height and weight limits for their seats. Many seats can accommodate children up to 65 pounds or more.
When children exceed these limits, they should use a belt-positioning booster seat until the vehicle's lap and shoulder seat belt fits properly. This is often when they have reached at least 4 feet 9 inches in height and are 8 to 12 years old.
When children are old enough and large enough to use the vehicle seat belt alone, they should always use lap and shoulder seat belts for optimal protection.
All children younger than 13 years should be restrained in the rear seats of vehicles for optimal protection.
Taking heed of the AAP's new guidelines, Washington has passed one of the strictest car seat laws in the country effective January 1, 2020. Under the new law, kids under the age of 2 must be in rear-facing car seats, unless they exceed maximum height and weight allowed. Kids between 2 and 4 years old must use forward facing seats, unless they exceed maximum height and weight according to manufacturers. Children between 4 and 16 years old should use a booster seat until they exceed 4 feet 9 inches tall. Finally, children under 13 years old must sit in the back seats of the vehicle.
Parents who do not comply with the new law and don't have their kids properly restrained can be ticketed – although the amount of the ticket isn't specified. The laws do not apply to buses, taxis, or shuttles.
While certainly inconvenient for parents, the inconvenience is likely worth it according to doctors. Dr. Beth Ebel – professor of pediatrics at the UW School of Medicine – stated that "This change brings us in line with current best thinking about keeping kids safe." Dr. Ebel testified in favor of the law and stricter car seat laws. Even at low speeds, kids often experience serious injuries after motor vehicle accidents because seat belts are made for adults, not for kids.
The laws might take some getting used to and telling your diminutive pre-teen that they need to sit in a booster might be a tough conversation, but the proof is in the pudding. The laws are based in science and the advancement of laws and technology have saved kid's lives. If you have any questions about Washington's car seat laws, or if you have a child who has been injured in a motor vehicle accident, the experienced attorneys at Magnuson Lowell PS are here to help. Call today for a free consultation.
Share this post!